Electrical Repair
Get Expert Help Now With an Electrical Repair.
Get Expert Help Now With an Electrical Repair.
The experts at Premier Electric are on call 24/7 for electrical repair. We want to keep your home safe and reliable, so no matter what your urgency, we're here to provide steadfast solutions. In the event of an emergency, you can always rely on us. Even if you are unsure of what is wrong, we will guide you through troubleshooting to a clear solution.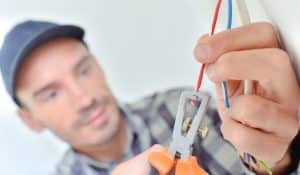 We Proudly Provide Safe, Residential & Commercial Solutions
When something isn't working properly in your electrical system, it can not only be inconveniencing but dangerous as well. We take every precaution to make sure the situation is handled properly and your problems are fixed. We can repair big concerns such as:
Circuit Breakers/Panels
Power Surge Damage
Power Outage (Localized to Your Home/Business)
Wiring Concerns & Aluminum Wiring
Sparking, Warm or Burned Outlets
Electric Components Exposed to Water
Square-D, Zinsco & Sylvania Brand Concerns
We can also give you a helping hand with annoyances such as:
Burned Bulbs
"Dud" Switches or Outlets
Frequently Tripping Breakers
Sometimes, seemingly small electrical issues can indicate that there is something more serious under the surface. So we will always look further than the symptoms.
Wait no longer to restore use of your appliance and/or electrical system.
Get the Fast Electrical Repair You Need
Call us now at (909) 307-1381 , and we'll schedule an electrical repair that fits into your busy schedule.